CDR cell to review Deccan Holdings case on October 19
Pranav Nambiar
: Mumbai, Fri Oct 05 2012, 01:37 hrs



The empowered group of the corporate debt restructuring (CDR) cell will meet on October 19 to take up the Deccan Chronicle Holdings (DCHL) case.
The consortium of 21 lenders to the debt-ridden media company late last month failed to reach a consensus on admitting DCHL into the CDR cell.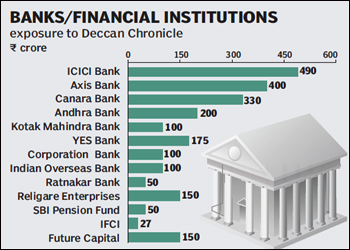 The lenders have an exposure of around R4,100 crore to the Hyderabad-based DCHL, which is seeking easier terms to repay its borrowings. ICICI Bank has the largest exposure to the company at R490 crore, followed by Axis Bank at R400 crore, Canara Bank R330 crore, Andhra Bank R200 crore, YES Bank R175 crore, Kotak Mahindra Bank R100 crore, Indian Overseas Bank R100 crore and Corporation Bank at R100 crore, among others.
Among some non-banking lenders are Religare Enterprises with an exposure of R150 crore, Future Capital at R150 crore, SBI Pension Fund at R50 crore and IFCI at R27 crore. DCHL's revenues in the year to March 2012 stood at R869.4 crore while the firm posted a net profit of R61 crore. In the previous year, the revenues stood at R1,030.91 crore and the profit was R163 crore.
According to a senior banker, the EG, which is the second tier of the structure of CDR Mechanism in India, will also discuss other cases referred to the cell for recast. The EG considers the preliminary Flash Report of all cases of requests of restructuring, submitted to it by the CDR Cell.
DCHL's entry into the CDR cell faces some roadblocks. At the previous CDR cell meeting held in September, only three banks were willing to recast DCHL's loans through the CDR route. Some bankers are understood to be awaiting the forensic audit report being undertaken by Canara Bank into the accounts of the company before taking a final call on the recast. A senior Canara Bank official said that the report could takes weeks to prepare and it is still unclear whether it would be ready in time for the October 19 CDR meeting.
Please read our

terms of use

before posting comments
TERMS OF USE: The views, opinions and comments posted are your, and are not endorsed by this website. You shall be solely responsible for the comment posted here. The website reserves the right to delete, reject, or otherwise remove any views, opinions and comments posted or part thereof. You shall ensure that the comment is not inflammatory, abusive, derogatory, defamatory &/or obscene, or contain pornographic matter and/or does not constitute hate mail, or violate privacy of any person (s) or breach confidentiality or otherwise is illegal, immoral or contrary to public policy. Nor should it contain anything infringing copyright &/or intellectual property rights of any person(s).