Coarse grain farmers harvest a fine margin
Sandip Das
,
Sunny Verma
: New Delhi, Wed Oct 03 2012, 04:15 hrs



Prices of coarse grain, without the minimum support price (MSP) cover, have risen faster than those of key grain during 2008-2012. During intervals between two crop seasons, farmers who cultivate coarse grain like jowar (sorghum), maize (corn), ragi (finger millet) and bajra (pearl millet) saw their income rise sharply in these years — yet another reason why rural income growth is outpacing the urban one and why the population is increasingly resilient to persistent high inflation.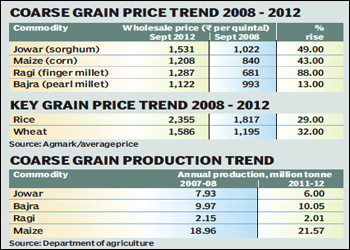 An analysis of wholesale prices of coarse grain reveals that prices of jowar, maize and ragi have risen by 49%, 43% and 88%, respectively, during 2008-2012. Over the same period, prices of wheat and rice rose by 32% and 29%, respectively.
Coarse grain are grown mostly in dry and rainfed regions of Rajasthan, Madhya Pradesh, Karnataka and Andhra Pradesh. While the government procures rice and wheat from farmers by providing minimum support price (MSP) through the Food Corporation of India and state government-owned agencies, in the case of coarse grain only jowar gets MSP coverage.
Agricultural experts say coarse grain prices have been rising as their perceived health benefits drive demand. Attractive prices are pushing farmers to take up these crops more aggressively.
Food companies like Pepsi, Britannia and ITC have started procuring these coarse grain as multi-grain diets catch up fast with health-conscious urban consumers.
Ragi has seen the highest jump in prices during last five years as demand for the calcium-rich grain, which also helps lower cholestrol levels, has shot up, mostly in southern India.
Bajra, which is historically part of the diet in Rajasthan, has also seen a moderate rise in the last five years. However, in Rajasthan, bajra prices have risen by more than 68% during same period. Bajra consumption is rising steadily elsewhere too, as it contains high amounts of proteins and iron.
... contd.
Please read our

terms of use

before posting comments
TERMS OF USE: The views, opinions and comments posted are your, and are not endorsed by this website. You shall be solely responsible for the comment posted here. The website reserves the right to delete, reject, or otherwise remove any views, opinions and comments posted or part thereof. You shall ensure that the comment is not inflammatory, abusive, derogatory, defamatory &/or obscene, or contain pornographic matter and/or does not constitute hate mail, or violate privacy of any person (s) or breach confidentiality or otherwise is illegal, immoral or contrary to public policy. Nor should it contain anything infringing copyright &/or intellectual property rights of any person(s).