Cotton imports likely to hit nine-year high in 2011-12
Banikinkar Pattanayak
: New Delhi, Mon Jul 16 2012, 19:24 hrs



it is a role reversal for India, the world's second-largest cotton exporter. The country's cotton imports are expected to hit a nine-year high of 1.5 million bales in the marketing year through September, thanks to record exports of around 13.5 million bales — or 39% of output — so far.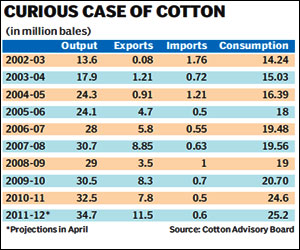 Imports have already touched one million bales, compared with the CAB's projection of 600,000 bales for the entire 2011-12, and are poised to scale a fresh peak since the Bt cotton was introduced in the country around 10 years ago, said government and industry sources. Although India usually buys some high-grade cotton varieties in small volumes from overseas — mainly from Egypt and the US — this year mills are purchasing all varieties, he added. The country had imported 500,000 bales of the fibre last year.
The sources said large volumes of exports have depleted cotton stocks, reinforcing apprehensions of a looming domestic shortage. Consequently, the gap between domestic and global prices has narrowed to even one or two cent per lb, and in some cases domestic cotton is 4% to 5% more expensive, making imports an attractive option for mills. The widely-used shanker 6 cotton variety is selling at around R36,000 per candy of 356 kg.
India, also the world's second-largest cotton grower, needs 25.2 million bales of cotton for consumption in 2011-12, while its output is pegged at 34.7 million bales, according to the projection by state-backed Cotton Advisory Board (CAB) in April.
"People feel that due to huge cotton exports so far, there won't be any stocks available in the domestic market after September. So mills that have not been able to stock up significantly due to a severe liquidity crunch in the sector are now importing," said Confederation Of Indian Textile Industry secretary-general DK Nair.
... contd.
Please read our

terms of use

before posting comments
TERMS OF USE: The views, opinions and comments posted are your, and are not endorsed by this website. You shall be solely responsible for the comment posted here. The website reserves the right to delete, reject, or otherwise remove any views, opinions and comments posted or part thereof. You shall ensure that the comment is not inflammatory, abusive, derogatory, defamatory &/or obscene, or contain pornographic matter and/or does not constitute hate mail, or violate privacy of any person (s) or breach confidentiality or otherwise is illegal, immoral or contrary to public policy. Nor should it contain anything infringing copyright &/or intellectual property rights of any person(s).