Govt begins rice procurement, targets record 40-mt purchase
Sandip Das
: New Delhi, Fri Oct 05 2012, 01:40 hrs



The government has started rice procurement for 2012-13 with a record target of 40 million tonne against the previous year's purchase of close to 35 million tonne.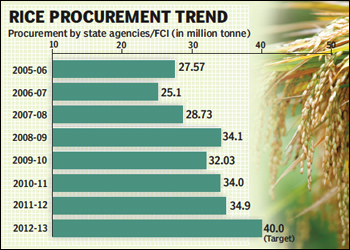 Started on October 1, procurement of rice by Food Corporation of India (FCI) and state-owned agencies has started in Haryana and Punjab, where the agencies have purchased 1.16 lakh tonne of rice out of which major chunk of procurement had been in Haryana.
"The procurement in Andhra Pradesh, Chhattisgarh, Orissa and other key contributing states to the central pool is expected to start by December," an FCI official told FE.
The government has set a rice procurement target of 40 million tonne for the current season, which is over 14% the last year figure. The rise in procurement target is expected to come from Andhra Pradesh where the agencies are expected to buy more than 9.6 mt of rice this year against only 5 mt procured last year.
For the 2011-12 season, FCI and state agencies have purchased more than 34.9 million tonne of rice from farmers which would be meant for distribution through targeted public distribution system (TPDS) and for maintaining buffer stocks and strategic reserve norms. Besides, FCI also keeps grain under strategic reserve norm and for distribution to armed forces as well.
In early September, FCI had a huge rice stocks in excess of 25.5 mt against the buffer stocks and strategic reserve norms of 7.2 million tonne. For all other states contributing to central pool such as Punjab, Haryana, Chhattisgarh, Orissa and Uttar Pradesh, the target has been largely set at the previous year's level.
Earlier, the Cabinet committee on Economic Affairs has approved hiking of Minimum Support Price (MSP) for paddy (common) variety has been fixed at R1,250 per quintal which is an increase of R170 per quintal from last year.
... contd.
Please read our

terms of use

before posting comments
TERMS OF USE: The views, opinions and comments posted are your, and are not endorsed by this website. You shall be solely responsible for the comment posted here. The website reserves the right to delete, reject, or otherwise remove any views, opinions and comments posted or part thereof. You shall ensure that the comment is not inflammatory, abusive, derogatory, defamatory &/or obscene, or contain pornographic matter and/or does not constitute hate mail, or violate privacy of any person (s) or breach confidentiality or otherwise is illegal, immoral or contrary to public policy. Nor should it contain anything infringing copyright &/or intellectual property rights of any person(s).