Home sales in Mumbai slip a tad
Shubhra Tandon
: Mumbai, Wed Jul 18 2012, 09:47 hrs



Home registrations between January and June 2012 in Mumbai have seen a marginal fall of 3.4% compared to the same period in 2011, showing some signs of improvement in the Mumbai residential property market on a year-on-year basis. Between January and June of 2011, home registrations had fallen a steep 22% against first half of the year 2010.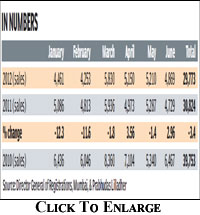 While the Mumbai residential real estate market might have arrested some negative sentiments, the market is still far from being said to be reviving when compared to 2010. Registration numbers are 25% lower.
"The situation in Greater Mumbai is bad," says Pankaj Kapoor, founder and managing director, Liases Foras, a Mumbai-based real estate rating and research company. "The slight improvement that has been seen in some months of the year is because sales in extended suburban areas is better. Also, secondary properties are seeing some sales, which is also reflecting in the registration numbers. However, the market is not good," says Kapoor.
"The drop in sales continues as the Mumbai market does not have right product at the right price," says Om Ahuja, CEO (residential services), Jones Lang LaSalle India, a real estate consultant. "If there are two-BHK apartments made in Lower Parel, they will sell like hot cakes, but that market has only high-end apartments, for which buyers are difficult to find."
Developers put the onus for lack of right product in the market on delays in getting approvals for projects. "There have been no approvals for new projects in Mumbai for the last 18 months, which restricted supply of new homes in the market," says Lalit Kumar Jain, president, CREDAI (Confederation of Real Estate Developer's Associations of India).
According to a July 4 report of Knight Frank Research, absorption numbers for houses in financial year 2012 in Mumbai are estimated to have dropped by more than 60% from 2007 heyday and 35% from financial year 2011 to an estimated 45,000 units. "The Mumbai market currently has an unsold inventory of 80,000 units, which forms 37% of the total residential supply under construction," adds the report.
... contd.
Please read our

terms of use

before posting comments
TERMS OF USE: The views, opinions and comments posted are your, and are not endorsed by this website. You shall be solely responsible for the comment posted here. The website reserves the right to delete, reject, or otherwise remove any views, opinions and comments posted or part thereof. You shall ensure that the comment is not inflammatory, abusive, derogatory, defamatory &/or obscene, or contain pornographic matter and/or does not constitute hate mail, or violate privacy of any person (s) or breach confidentiality or otherwise is illegal, immoral or contrary to public policy. Nor should it contain anything infringing copyright &/or intellectual property rights of any person(s).