India Inc in trouble as R breaches 56; PMEAC talks of Millennium Bond
fe Bureau
: Mumbai, Thu May 24 2012, 06:26 hrs



The rupee continued its free fall against the greenback for the sixth straight session on Wednesday, dropping to a new lifetime low of 56.2213 before recovering to close at 56.0050. The sharp fall was driven to a large extent by the weakening of the euro against the dollar – the euro hit a 21-month low against the dollar at 1.2615. The Reserve Bank of India (RBI) is understood to have stepped into the forex market in the closing hours of the market but the levels of intervention were not known. The Indian currency has now lost close to 26% since last July when it was quoting at levels of 44.50 against the dollar.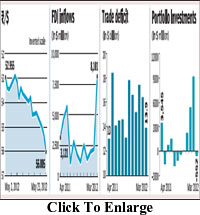 C Rangarajan, chairman of the prime minister's economic advisory council told a television channel that it was important for the RBI to "come in from time to time" to stem the steep fall in the currency. Rangarajan said there was a tendency, at times, for the market to overshoot levels justified by the circumstances. He also felt that Millennium Bonds could be considered at the right time.
The central bank has attempted to check the fall, curbing banks' overnight positions and attempting to reduce currency arbitrage opportunities. The RBI has also taken steps to attract dollars by freeing interest rates on NRE deposits and has asked exporters to sell 50% of the amount in their EEFC accounts.
However, deteriorating economic fundamentals, policy stasis and consequent downgrading of growth forecasts have left foreign investors less confident about the country's prospects in the near term.
Leading brokerages now estimate India's GDP to grow at 6.3% in 2012-13. The benchmark Sensex fell for a second consecutive session on Wednesday, closing below the 16,000-mark at 15,948.10.
Meanwhile, petrol prices have been increased as the government attempts to ease the pressure on oil marketing companies which suffer as they pay more to purchase crude. Although Brent crude price is currently $108 a barrel – down 14.5% from $125 per barrel in early April – the gains have been offset by a weaker rupee, which has lost more than 14% since March.
... contd.
Please read our

terms of use

before posting comments
TERMS OF USE: The views, opinions and comments posted are your, and are not endorsed by this website. You shall be solely responsible for the comment posted here. The website reserves the right to delete, reject, or otherwise remove any views, opinions and comments posted or part thereof. You shall ensure that the comment is not inflammatory, abusive, derogatory, defamatory &/or obscene, or contain pornographic matter and/or does not constitute hate mail, or violate privacy of any person (s) or breach confidentiality or otherwise is illegal, immoral or contrary to public policy. Nor should it contain anything infringing copyright &/or intellectual property rights of any person(s).