India, Pakistan ink pact on liberalised visa, cultural exchanges
Agencies
: Islamabad, Sat Sep 08 2012, 20:59 hrs



In the first concrete outcome of Indo-Pak dialogue, the two countries today signed agreements to substantially ease travel restrictions and for cultural exchanges but made no headway on India's demand for speedy action against perpetrators of Mumbai terror attacks.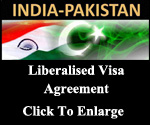 External Affairs Minister S M Krishna and his Pakistani counterpart Hina Rabbani Khar told a joint press conference after their talks here that they had agreed to adopt a forward-looking approach in normalising their ties while recognising the need to "expeditiously" bring perpetrators of the 2008 Mumbai attacks to justice.
However, Islamabad did not go beyond its stated position of bringing to book those involved in the Mumbai attacks in accordance with due process of law.
India, on its part, was non-committal on Prime minister Manmohan Singh's visit to this country with Krishna refusing to give a firm commitment on this, saying that the atmosphere has to be "ripe" and something "worthwhile" should come out from such a trip.
He made it clear that Singh was "not shying away" from visiting Pakistan and had never put conditions for this.
"Prime Minister has never put conditions for his visit to Pakistan. I think, the visit will take at an appropriate time when the atmosphere is ripe, when he feels that something worthwhile will come out of visit," Krishna said.
The visa agreement has five new categories, including multiple city one-year visas for businessmen, visa-on-arrival for people aged 65 years and group tourist visas for groups of 10 to 50 people coming through registered tour operaters.
The cultural bodies of the two countries – Indian Council of Cultural Relations (ICCR) and its Pakistani counterpart body (PNCS) -- also inked an agreement to augment cultural exchanges between the two sides.
Meanwhile, Pakistan President Asif Ali Zardari announced the immediate release of all Indian fishermen, including those who have not completed their prison terms, describing it as a "goodwill gesture" to mark Krishna's visit.
... contd.
Please read our

terms of use

before posting comments
TERMS OF USE: The views, opinions and comments posted are your, and are not endorsed by this website. You shall be solely responsible for the comment posted here. The website reserves the right to delete, reject, or otherwise remove any views, opinions and comments posted or part thereof. You shall ensure that the comment is not inflammatory, abusive, derogatory, defamatory &/or obscene, or contain pornographic matter and/or does not constitute hate mail, or violate privacy of any person (s) or breach confidentiality or otherwise is illegal, immoral or contrary to public policy. Nor should it contain anything infringing copyright &/or intellectual property rights of any person(s).