Invest or pay spl dividends, Chidambaram tells CPSUs
Himani Kaushik
,
Subhash Narayan
: New Delhi, Thu Oct 04 2012, 03:21 hrs



Public sector enterprises that fail to follow announced expansion schedules must cough up special dividends this fiscal, as a fiscally-stressed government looks to tap into these cash-rich entities. Central PSUs are currently sitting on more than R1.88 lakh crore and many of them are either drawing up large expansion projects or implementing them.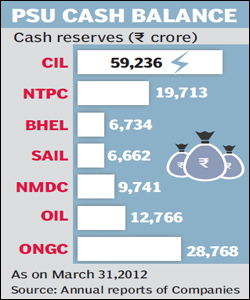 According to official sources, the finance ministry has asked these companies to either step up investment in the current fiscal to boost the economy or shell out more as interim dividends to help the government rein in the fiscal deficit.
Against the Budget target of 5.1% of GDP, fiscal deficit is projected to rise to over 6% of GDP this year, limiting room for private investors to access funds at economical rates.
Seventeen state-owned companies provided the government about R17,000 crore as interim dividend in 2011-12, a growth of over 36% over the previous fiscal. The government wants to improve the figure this year and early indications have already been given to PSUs, said a source privy to the development.
"Paying interim dividend is a regular exercise followed by PSUs. We expect to finalise the payout while putting together the third quarter results of the company," said the head of a PSU, asking not to be named.
The matter, the source said, came up for discussion during a recent meeting of PSU chiefs with the finance minister. Even though the meeting – attended by chief executives of CIL, NTPC, Bhel, NMDC, MMTC, ONGC, OIL, SAIL and IOC – discussed ways of improving investments in a time-bound manner, the clear message from the government was that PSUs faltering on investment commitments must put their money into the central coffer.
The Kelkar panel on fiscal consolidation too has said that central PSUs with large cash balances should either speed up sound investment or the government should call for a special dividend on a "use-it-or-lose-it" principle.
... contd.
Please read our

terms of use

before posting comments
TERMS OF USE: The views, opinions and comments posted are your, and are not endorsed by this website. You shall be solely responsible for the comment posted here. The website reserves the right to delete, reject, or otherwise remove any views, opinions and comments posted or part thereof. You shall ensure that the comment is not inflammatory, abusive, derogatory, defamatory &/or obscene, or contain pornographic matter and/or does not constitute hate mail, or violate privacy of any person (s) or breach confidentiality or otherwise is illegal, immoral or contrary to public policy. Nor should it contain anything infringing copyright &/or intellectual property rights of any person(s).