Operation Bluestar hero, Lt Gen (Retd) K S Brar stabbed by four men in London
Harpreet Bajwa
: Chandigarh, Mon Oct 01 2012, 21:23 hrs



Twenty eight years after he led Operation Bluestar to flush out militants from the Golden Temple at Amritsar, 78-year old Lt Gen KS Brar (Retd) was yesterday attacked with a knife in London but is stated to be out of danger.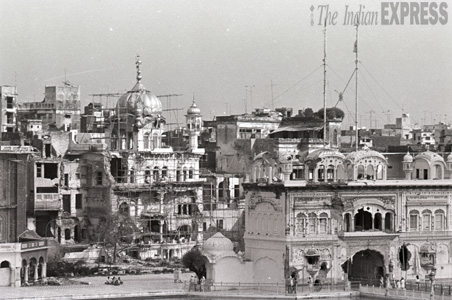 Caption: Akal Takht after it was rennovated following Operation Bluestar. IE photo: Swadesh Talwar
Sources in the central intelligence agencies said that Gen Brar who had gone to the UK to visit his daughter who lives in London and relatives along with his second wife was staying in a hotel in Mayfair in Central London. He was returning on foot to the hotel with his wife when four unidentified turbaned persons suspected to be militants attacked him with a knife near the hotel. He sustained injuries in his neck and as his wife raised an alarm, they ran away from the spot. His wife too was pushed to the ground but is reportedly not injured.
When contacted over phone a spokesman of the London Metropolitan Police confirmed that Gen Brar was attacked.
"At 10.11 PM at Qubeck Street this 70 year old man was attacked. He is stated to be in serious condition, but not life threatening. The police is still investigating the matter.''
The Union Ministry of External Affairs has also confirmed the incident.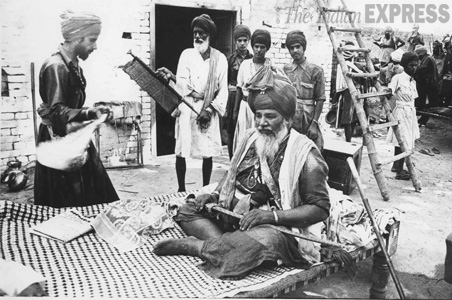 Caption:Nihang Chief Baba Santa Singh of Buda Dal who performed Kar Seva at the Golden Temple after it was damaged during Operation Bluestar. IE photo: Swadesh Talwar
Sources said that Gen Brar was under threat since 1984 and had Z-plus security with him at his residence in an army area in Mumbai after his retirement. His only son is living in USA. Khalistani militants have been tracking Brar since long. The last time he was in United Kingdom, he was reportedly tracked but the attempt on his life was foiled.
... contd.
Please read our

terms of use

before posting comments
TERMS OF USE: The views, opinions and comments posted are your, and are not endorsed by this website. You shall be solely responsible for the comment posted here. The website reserves the right to delete, reject, or otherwise remove any views, opinions and comments posted or part thereof. You shall ensure that the comment is not inflammatory, abusive, derogatory, defamatory &/or obscene, or contain pornographic matter and/or does not constitute hate mail, or violate privacy of any person (s) or breach confidentiality or otherwise is illegal, immoral or contrary to public policy. Nor should it contain anything infringing copyright &/or intellectual property rights of any person(s).