Jobs growth crawls at 0.24% q-o-q in Apr-Jun
Raj Kumar Ray
: New Delhi, Fri Oct 05 2012, 01:34 hrs



Employment growth in the first quarter of 2012-13 crawled at 0.24%, sequentially, as companies in metals and automobile sectors cut jobs while transport, leather and handloom firms virtually froze hiring following a sharp slowdown in the economy.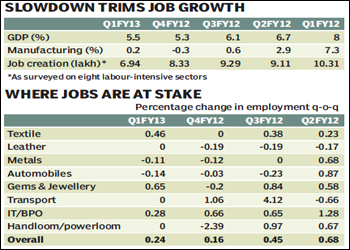 However, sectors like textiles, information technology and gems and jewellery hired more labourers to reap the benefit of a sharp rupee depreciation to boost exports, a government official told FE, quoting numbers from the latest quarterly survey by labour ministry that is yet to be made public.
"Of the overall job creation of 0.73 lakh during the April-June quarter, employment increased by 0.5 lakh in textiles, 0.27 lakh in IT/BPO and 0.05 lakh in gems and jewellery, while it declined by 0.05 lakh in metals and 0.04 lakh in automobiles," the official said.
The quarter-on-quarter growth in employment during April-June was slightly better than the 0.16% in Q4 of 2011-12 but lower than the 0.45% recorded in Q3 and the 0.68% in Q2 of last year.
If the trends in eight labour-intensive sectors are any indication, the overall employment situation remains grim with economic growth slipping to 5.5%, manufacturing expansion remaining almost flat during April-June and companies deferring investment plans.
The eight labour-intensive sectors added 0.73 lakh jobs during April-June, lower than 0.8 lakh during January-March, 2.26 lakh in October-December and 3.15 lakh in July-September of 2011, the official said.
While export-oriented units added 0.33 lakh jobs during April-June, the non-exporting units contributed 0.39 lakh jobs.
Even on an annual basis, the employment generation moderated to 6.94 lakh in 12 months ending June, from 8.37 lakh at the end of Q4 of 2011-12, 9.29 lakh in Q3, 9.11 lakh in Q2 and 10.31 lakh in Q1.
The IT and BPO sectors added 4.4 lakh jobs annually until June, while the textile sector generated 1.7 lakh jobs, transport contributed 0.45 lakh and metals 0.26 lakh. The annual job creation was just 0.11 lakh in the auto sector while it fell by 0.17 lakh in leather.
... contd.
Please read our

terms of use

before posting comments
TERMS OF USE: The views, opinions and comments posted are your, and are not endorsed by this website. You shall be solely responsible for the comment posted here. The website reserves the right to delete, reject, or otherwise remove any views, opinions and comments posted or part thereof. You shall ensure that the comment is not inflammatory, abusive, derogatory, defamatory &/or obscene, or contain pornographic matter and/or does not constitute hate mail, or violate privacy of any person (s) or breach confidentiality or otherwise is illegal, immoral or contrary to public policy. Nor should it contain anything infringing copyright &/or intellectual property rights of any person(s).