Mills oppose Centre's levy sugar allocation process
Banikinkar Pattanayak
: New Delhi, Wed Oct 24 2012, 01:26 hrs



Sugar mills, especially those from north India, have demanded an equitable sharing system for supplying subsidised sugar to the Centre.
At present, mills are mandated to sell 10% of their output to the government for supplies through the public distribution system (PDS)--called the levy sugar quota. This is done at prices that cover just around 65% of their cost of production, according to an industry estimate. However, of late, while some mills have been asked to offload more levy sugar, although within the 10% quota, some others have been directed to release less.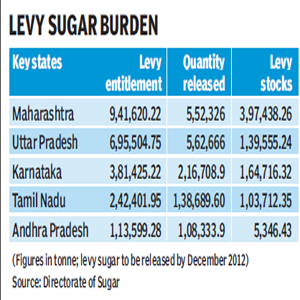 The sector is already cash-starved due to various government controls, including subsidised sugar sales for the PDS and restrictions on quarterly sugar sales in the open market, and any disparity in the sharing of the levy burden just worsens the cash flow into affected mills, said a senior executive with a UP-based company.
"After calculating the levy sugar allocation for the October-December period among various sugar mills, it is noted that the allocations of levy sugar up to December 2012, made out of the 2011-12 season's (ending September 30) production, indicates that whereas almost 9% to 10% of the 2011-12 season's production has been fully allocated in the case of several sugar mills, only about 2% to 3% have been allocated in the case of several other sugar mills, mostly located in a particular region or couple of states," the Indian Sugar Mills Association (ISMA) said in a October 22 letter to the chief director of sugar in the food ministry.
Interestingly, many mills in Maharashtra, the country's largest sugar producer, and Karnataka have been asked to release levy the sweetener in the range of 2% to 3% until December against their entitlement, while those in other parts have been directed to offload more.
... contd.
Please read our

terms of use

before posting comments
TERMS OF USE: The views, opinions and comments posted are your, and are not endorsed by this website. You shall be solely responsible for the comment posted here. The website reserves the right to delete, reject, or otherwise remove any views, opinions and comments posted or part thereof. You shall ensure that the comment is not inflammatory, abusive, derogatory, defamatory &/or obscene, or contain pornographic matter and/or does not constitute hate mail, or violate privacy of any person (s) or breach confidentiality or otherwise is illegal, immoral or contrary to public policy. Nor should it contain anything infringing copyright &/or intellectual property rights of any person(s).