Shivpal Yadav to babus: 'You can steal', but don't be 'dacoits'
Agencies
: New Delhi, Tue Aug 14 2012, 20:36 hrs



In yet another shocking statement emerging from supremo Mulayam Singh and Uttar Pradesh Chief Minister Akhilesh Yadav's Samajwadi Party (SP) stables, a senior leader has virtually given official sanction to administrators to steal.
According to reports, SP's Shivpal Singh Yadav told bureaucrats and police that it is OK to steal if they work hard.
He is the uncle of Akhilesh Yadav.
Speaking to UP PWD officials, the Uttar Pradesh Public Works Department Minister said, "As long as you work hard and get things done, you can steal a little."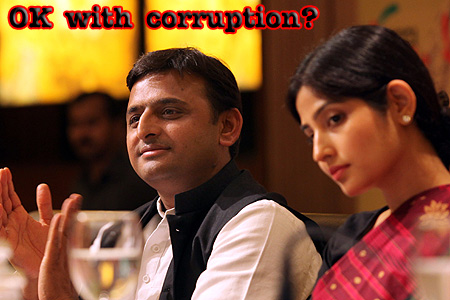 He went on to add that this 'stealing' should not get transformed into general 'loot' of the people.
Chairing a meeting of district programme committee yesterday in Etah, Shivpal, the PWD Minister, said, "Maine to usi din PWD walo se khule aam keh diya tha agar mehnat karoge to thodi bahut chori kar sakte ho, dakaiti nahi daloge (I have already told PWD people openly that if you work hard, you can steal a little, but don't behave like dacoits").
"Agar mehnat karoge, jee lagaoge, agar inhe meetha paani de doge to chori kar sakte ho (If you work hard, if you give them water then you can steal)," he had stated.
These statements caused an uproar in the country, leading all parties to condemn the SP's work ethic, saying corruption in India cannot be ended with such people in power.
At SP's hurriedly convened press conference in Lucknow today, Shivpal tried to explain away his comments in a bizarre manner by adding 'context' to it.
The Minister said the SP government had come to power vowing to end corruption.
In his defence, Yadav said he had no intention of promoting corruption, instead he was actually speaking against it.
Thereafter, he started blaming the media, saying he had no idea reporters were present there - 'Mere ko nahi pata woh chori se kaise andar a gaye" (literally, they slunk in like thieves).
... contd.
Please read our

terms of use

before posting comments
TERMS OF USE: The views, opinions and comments posted are your, and are not endorsed by this website. You shall be solely responsible for the comment posted here. The website reserves the right to delete, reject, or otherwise remove any views, opinions and comments posted or part thereof. You shall ensure that the comment is not inflammatory, abusive, derogatory, defamatory &/or obscene, or contain pornographic matter and/or does not constitute hate mail, or violate privacy of any person (s) or breach confidentiality or otherwise is illegal, immoral or contrary to public policy. Nor should it contain anything infringing copyright &/or intellectual property rights of any person(s).