Geetika Sharma suicide: Sirsa's Gopalia to Haryana's MoS Kanda
VARINDER BHATIA
: Sirsa, Mon Aug 13 2012, 16:04 hrs



Gopal Goyal Kanda, Haryana's former minister of state for home, may have failed to make it past high school, but what he lacked in education he apparently made up through ambition. "Hawai chappal se hawai jahaaj tak jaoonga (I will move from bathroom slippers to aeroplanes)," Kanda is believed to have famously prophesied after he left school and joined his family's small shoe business, even though he may not have dreamed he would own an airline.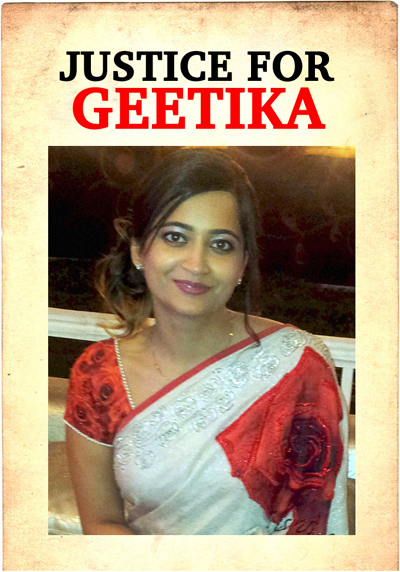 Join us in our campaign to get 'Justice for Geetika' on Facebook:
Kanda, commonly referred to as 'Gopalia' in his constituency of Sirsa, went beyond owning an airline. After being denied a Congress ticket to contest the 2009 Assembly elections from Sirsa, he fought as an independent candidate, defeated the congress nominee - five-time MLA Lacchman Dass Arora - and joined Bhupinder Singh Hooda's government as a junior minister.
But Kanda's political career hit a major air pocket over the weekend just like his MDLR Airlines which ran into financial and regulatory problems and had to shut down in late 2009, less than three years after it was launched. Kanda resigned on Sunday after he was booked by Delhi police for allegedly abetting the suicide of a former MDLR air hostess, Geetika Sharma. But even before he made national headlines, Kanda was considered controversial and colourful in his home town.
The son of small-time lawyer Murli Dhar, who also owned Glorious Shoes, Kanda is remembered as a notorious child in the Hisaria market area of Sirsa where he grew and now owns a 400-sq yard house" "Gopalia used to get thrashed almost daily by Billu"," claims Suresh Kumar Goyal, who sold the house to Kanda in 2000 for Rs 30 lakh. Billu was the nickname of INLD leader Abhay Chautala, son of former Haryana chief minister Om Prakash Chautala, who would allegedly get violent over Kanda's antics" "Everybody here knew that Gopalia was Billu's man. Gopalia and Gobind were known as henchmen of the Chautalas. But they separated later. Gopalia never looked back after moving to Gurgaon"."
Kanda's move to Gurgaon is also attributed to his networking skills. Besides being close to the Chautalas, Kanda was also reportedly close to a Haryana cadre IAS officer who was the additional deputy commissioner of Sirsa in the mid-1990s. When the officer was transferred as administrator of the Haryana Urban Development Authority in Gurgaon, he took his driver Devi Yadav and Kanda with him.
Kanda, who had begun to deal in real-estate in Sirsa, is said to have joined hands with Yadav and got into the thick of Gurgaon's real-estate business when it was in its infancy. Sources claimed that Kanda and Yadav got hold of lists of people whose properties were caught in disputes or plots that had been taken back by the authorities for payment defaults, helped them settle disputes for a price and even bought some of those properties and plo"s. "There was no looking back for Kanda after t"at," a close aide told The Indian Express.
When Kanda returned to Sirsa in 2001, he drove a Mercedes Benz he claimed he had bought from a famous Delhi surgeon, said Goyal. He also built a sprawling bungalow on a five-acre plot on the outskirts of Sirsa and began managing a religious centre next door called Kutia, where religious discourses are conducted amid tall statues of Lord Shiva.
Kanda, who made friends with prominent names in the entertainment industry, has hosted singers such as Anuradha Poudwal and Narinder Chanchal as well as religious leaders such as Swami Avdeshanand and Rithambara. Sirsa residents say that Kanda also claims to know Bollywood stars such as Aditya Panscholi, Hema Malini, Dharmendra, Sanjay Dutt, Richa Sharma and Suniel Shetty, among others.
It was no secret that Kanda harboured strong political ambitions, having been the election agent of a INLD candidate from Sirsa in the early 1990s. In 2009, he sought a INLD ticket to contest Assembly elections but failed to get it. Although he had friends in the Congress as well and his name figured in the list of prospective candidates, the ticket went to Arora. Kanda contested as an independent and trounced Arora.
Kanda's family seems a bit shaken by the Geetika suicide case but brother Gobind puts up a brav" face. "The incident is the handiwork of the opposition. Gopal has nothing to do with the girl, who has committed suicide. There are more than 1,000 persons working in MDLR group. There has never been any such incident. We will fight the legal"battle," he said.
His empire
The MDLR group is named after Kanda's father Murli Dhar and his son Lakh Ram. It is into real-estate development, hotels, hospitals, construction.
MDLR started a feeder airline with three leased Avro RJ70 aircraft in March 2007 but had to close down in November 2009 following allegations of missing lease payments.
The other projects of the group include shopping mall Hong Kong Bazaar, a theme mall called MDLR Globe and a Vastu-based housing project, all in Gurgaon.
It also owns or operates three luxury hotels, including one in Manesar and one in Gurgaon.
Please read our

terms of use

before posting comments
TERMS OF USE: The views, opinions and comments posted are your, and are not endorsed by this website. You shall be solely responsible for the comment posted here. The website reserves the right to delete, reject, or otherwise remove any views, opinions and comments posted or part thereof. You shall ensure that the comment is not inflammatory, abusive, derogatory, defamatory &/or obscene, or contain pornographic matter and/or does not constitute hate mail, or violate privacy of any person (s) or breach confidentiality or otherwise is illegal, immoral or contrary to public policy. Nor should it contain anything infringing copyright &/or intellectual property rights of any person(s).