Six-cylinder LPG cap frees animal spirits at RIL, Essar
Subhash Narayan
,
Prashant Mukherjee
: New Delhi, Wed Oct 24 2012, 01:52 hrs



Never do private-sector players fail to sense the opportunities thrown up by the unshackling of state control on markets. Reliance Industries and Essar Oil are busy crafting plans to take on public sector oil marketing companies in the cooking gas market segment freed by the recent decision to cap subsidised LPG cylinders per year at six.
At current prices of R900 a cylinder and assuming that an average family requires 7-8 cylinders a year, the size of the free market in LPG is estimated at around R20,000 crore: A pie juicy enough for the private players to take note.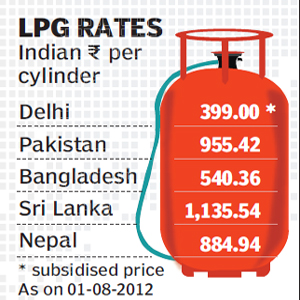 Industry sources said while Reliance and Essar have started chalking out plans for the LPG market where consumers pay market rates, multinational Shell too could explore the option. The sources added Reliance has already started out retailing in parts of Maharashtra and Gujarat. Essar Oil too is weighing options in retailing LPG. "We saw opportunities in the domestic LPG market. At the right time, we will take appropriate action," Lalit Kumar Gupta, managing director and chief executive officer, Essar Oil said.
Although the companies refused to give details of investment plans for this new business, a market analyst said the amounts may not be big for players which already have some presence in the market. Private companies, he said, may offer higher commissions to distributors and dealers to acquire markets from PSUs and outsource bottling to reduce investments, he said.
At present, there are around 14 crore domestic LPG customers. About 1.2 crore customers were added in 2011-12 indicating a growth of around 10%. State-owned Indian Oil, Bharat Petroleum and Hindustan Petroleum together meet the country's entire LPG cylinder demand.
"PSUs guarantee supply from the last three decades. We are not worried about the competition," said Makrand Nene, director marketing, Indian Oil Corporation.
... contd.
Please read our

terms of use

before posting comments
TERMS OF USE: The views, opinions and comments posted are your, and are not endorsed by this website. You shall be solely responsible for the comment posted here. The website reserves the right to delete, reject, or otherwise remove any views, opinions and comments posted or part thereof. You shall ensure that the comment is not inflammatory, abusive, derogatory, defamatory &/or obscene, or contain pornographic matter and/or does not constitute hate mail, or violate privacy of any person (s) or breach confidentiality or otherwise is illegal, immoral or contrary to public policy. Nor should it contain anything infringing copyright &/or intellectual property rights of any person(s).