Mumbai :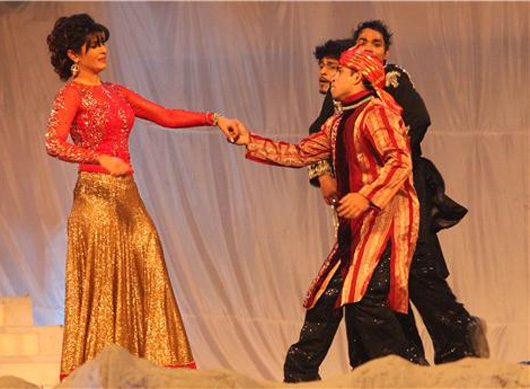 Priyanka Chopra rose up dramatically in the air seated in an imaginatively constructed Ganpati and showered the delighted audience with shiny bits of confetti. John Abraham wheeled by and caused a furore. The stunning Rekha voiced a Gulzar nazm as a tribute to the late Yash Chopra. Karan Johar sportingly danced along with his young proteges. Amitabh Bachchan cast a spell when he went up to accept a tribute to him. And master of ceremonies Shah Rukh Khan revved up the energy like only he can.
19th Annual Colors Screen Awards: Winners
19th Annual Colors Screen Awards: Red Carpet
19th Annual Colors Screen Awards: Performances
As curtains went up on the 19th Colors Screen Awards at Mumbai's Bandra Kurla Complex Saturday, the evening glittered with stars in the sky and stars on the ground. Nothing shone brighter than Bollywood though — honoured at the awards for an year in which, in the words of Shah Rukh Khan, it became bigger.
2012 indeed saw the small film become big, and the big film become bigger. It was the year a pregnant woman was the hero of a mainstream Hindi film and a middle-aged mother was brought centrestage. It was the year 100 crores became the benchmark for box office success while the most unusual relationship between a deaf mute young man and an autistic young woman touched our hearts. And above all, it was the year when story became the undisputed king.
The list of Colours Screen Award winners reflects all of this — a film industry in the throes of change, busy shedding its creaky old formulae and moving into new, uncharted, exciting areas.
The story of an athlete turned dacoit who stayed a great patriot till the end got Paan Singh Tomar the Best Film and Best Actor honours. A sprawling exuberant gangster saga from Bihar which was also a trenchant statement on the skewed power structures in old and new India, Gangs of Wasseypur was a close contender, as were Barfi!, Kahaani and Vicky Donor — each of them films that broke barriers.
Barfi! had equal first votes and more second votes but jury re-voted on it to end up with one more vote for Paan Singh Tomar as Best Film.
However, each of the films walked away with awards. Barfi! got co-Best Actor Award for Ranbir Kapoor, Kahaani Best Actor (Female) for Vidya Balan. Ayushmann Khurana was voted Most Promising Newcomer (Male) for Vicky Donor.
Ranbir Kapoor also had a terrific act on stage paying tribute to the great stars of the past and present.
The Best Director category reflected the coming on top of both sorts of films — the concept-driven, story-driven film toplining the best actors in the country, and the big-budget extravaganzas starring the biggest stars. Anurag Basu for Barfi! finally won in a category that had as fellow nominees Anurag Kashyap (Gangs of Wasseypur), Shoojit Sircar (Vicky Donor), Tigmanshu Dhulia (Paan Singh Tomar) and Sujoy Ghosh (Kahaani).
Dhulia did win a Screen award, but for Best Actor in a Negative Role (Male or Female) for Gangs of Wasseypur.
Sridevi deservedly was in the running for the Best Actor (Female) award for her comeback film, nominated along with the young Parineeti Chopra, who has just begun her Bollywood innings, for Ishaqzaade. Priyanka Chopra made a strong bid with her autistic turn in Barfi! along with Kareena in Heroine and Deepika Padukone in Cocktail. However, there was no stopping Vidya Balan, who won for an amazing fourth straight time, for Kahaani (after Pa, Ishqiya and The Dirty Picture).
Shah Rukh Khan's jousting with the taller Deepika was the highlight of the evening. He also did a little number with Ayushmann Khurana, while his jugalbandi with singer Mika led to one of the evening's loudest guffaws. "Sab actors ke awards kha hi gaye ho, hum singers ko bhi nahin chodoge!" Mika joked.
Sonakshi Sinha danced with great verve, with proud parents Shatrughan and Poonam Sinha applauding. Bachchan Senior looked as pleased when son Abhishek went up to get his best Actor in a Comic Role Award for Bol Bachchan (he split it with Annu Kapoor, who won it for Vicky Donor).
It was the coveted Ramnath Goenka Award that settled the tone of the evening though. The fact that Gangs of Wasseypur, a dark, gritty, violent multi-generational saga of small-town gangsters, won this award tells us that an audience has come of age and can appreciate a film on its own merits.
Editor-in-Chief of the Express group Shekhar Gupta talked of how cinema has become the most powerful communication tool, and how Gangs of Wasseypur is "a film that journalists love, because it came out just at the time when the coal scam broke".
This drew a smile from the chief guest, Information and Broadcasting Minister Manish Tewari, whose brief speech also touched upon the "very important" contribution cinema has made to society.
For an industry that is arguably the biggest in the world, there can't be better news. For, as the awards list showed, finally there are enough films coasting on script and story and performances — leading us to hope this would now be the norm than the exception.
Bollywood is growing up. And we were at hand, watching. And applauding.
And the award goes to...
Best film: Paan Singh Tomar
Best director: Anurag Basu for Barfi!
Best actor (male): Irrfan (Paan Singh Tomar), Ranbir Kapoor (Barfi!)
Best actor (female): Vidya Balan (Kahaani)
Ramnath goenka award: Gangs of Wasseypur
Best Actor in a Supporting Role (Male): Nawazuddin Siddiqui (Talaash),
Best Actor in a Supporting Role (Female): Dolly Ahluwalia (Vicky Donor)
Best Actor in a Negative Role: Tigmanshu Dhulia (Gangs of Wasseypur)
Best Actor in a Comic Role: Annu Kapoor (Vicky Donor) and Abhishek Bachchan (Bol Bachchan)
Best Child Artiste: Mohammad Samad (Gattu)
Best Ensemble Cast: Gangs of Wasseypur
Most Promising Debut Director: Gauri Shinde (English Vinglish)
Most Promising Newcomer (Male): Ayushmann Khurrana (Vicky Donor)
Best Playback Singer (Male): Javed Ali (Ishaqzaade)
Best Playback Singer (Female): Shalmali Kholgade (Ishaqzaade)
Most Promising Newcomer (Female): Ileana D'cruz (Barfi)
Best Background Score: Pritam (Barfi! )
Best Music Pritam: (Barfi!)
Best Lyrics: Javed Akhtar (Talaash, Muskanein Jhoothi Hain)
Best Story: Sujoy Ghosh-Advaita Kala (Kahaani)
Best Costume: Anaita Shroff Adajania (Cocktail)
Best Dialogue: Bhavesh Mandlia-Umesh Shukla (OMG:Oh My God)
Best Cinematography: Ravi Varman (Barfi!)
Best Animation: Delhi Safari
Best Editing: Namrata Rao (Kahaani)
Best Sound Design: Sanjay Maurya-Allwyn Rego (Kahaani)
Best Screenplay: Sanjay Chouhan-Tigmanshu Dhulia (Paan Singh Tomar)
Best Production Design: Kaushik Das-Subrata Barik (Kahaani)
Best Choreography: Prabhu Deva, Vishnu Deva (Go Govinda, OMG: Oh My God)
Best Action: Sham Kaushal (Gangs of Wasseypur)
MARKETING AWARD: Barfi!
Lifetime Achievement: Award Yash Chopra
Legend of Indian Cinema Award: Amitabh Bachchan
Best Actor Male (Popular category): Salman Khan
Best Actor Female (Popular category):Katrina Kaif